Talent reaches its best with teamwork; envisioning and creating together provides the best and the most valuable outcomes.
This is why we believe in brand collaborations. For igniting inspiration and creativity; for leading innovation, for creating a sustainable world… All for making a positive impact for a better life…

Rather than hoping for change, we create movement to reach new worlds. Freedom to create is what we are truly passionate about. And our passion gives birth to innovation; creating change and embracing it as an exciting opportunity is what innovation is all about. Last but not least, while doing all of those, we've never believed that someone else will save our planet. It is only "us", coming together, consciously and truthfully, for a better life.

Therefore we come together and collaborate because we care. And when we care, it's always beyond words, alive and breathing in our actions.

We don't follow trends; we create them. And we never forget that this isn't about being transient; this is all about sustaining, preserving and expanding goodness with style. True power comes when we join forces for this purpose; go beyond what's already there and stretch beyond our own boundaries. Every single purposeful act, even the smallest ones, when multiplied, can transform the world.


World Amber
We've proudly made a business alliance with the well-known and well-established Japanese brand, World Amber, as the brand displayed its collections in the stores with Çalık Denim hangtags, underlining the premium denim fabric from Turkey. We believe in the power of collaboration, to create true value and betterment. 
World Amber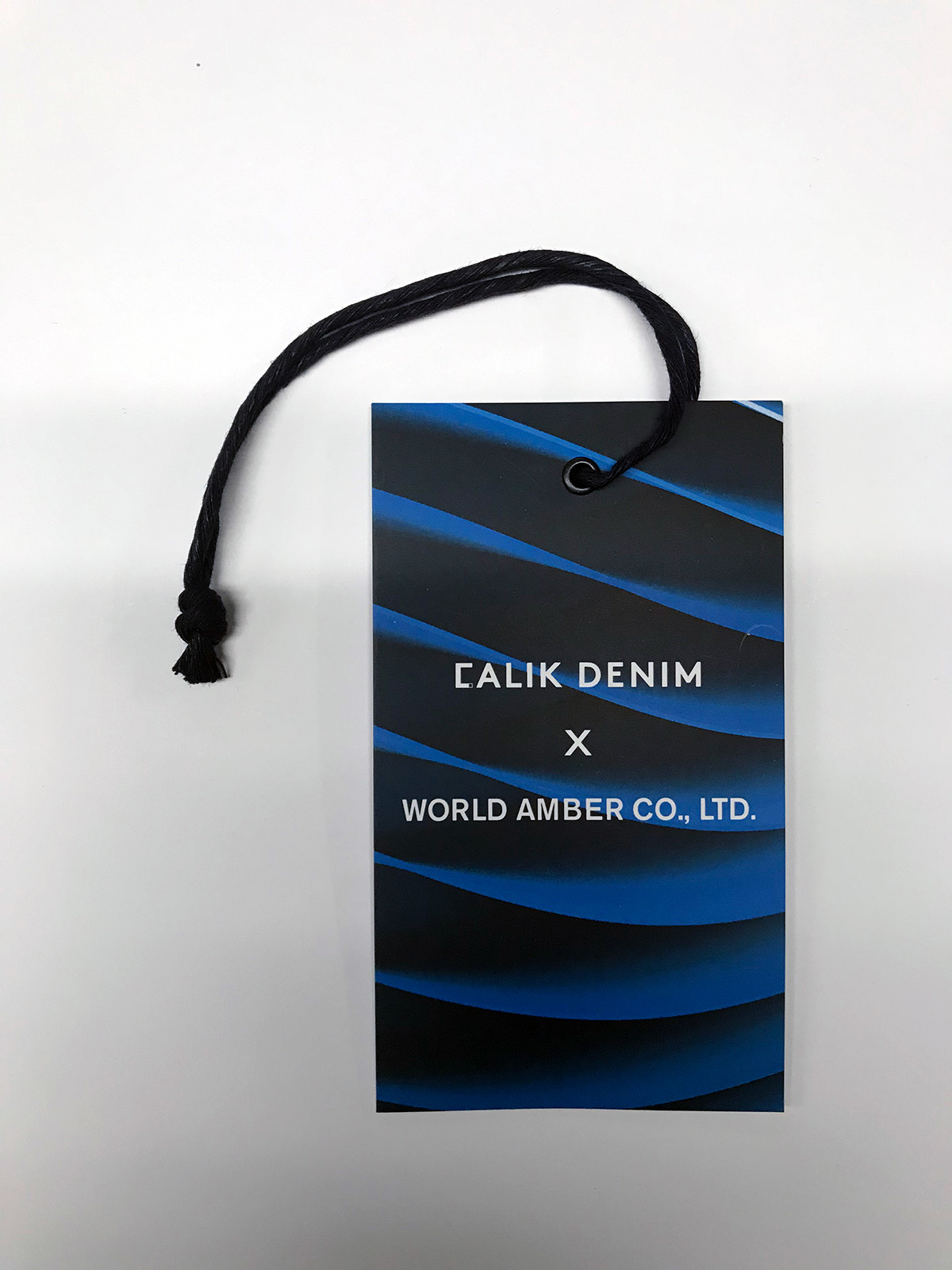 We have realized a co-branding project with World Amber from Japanese market, as the brand created a special collection using our Fix-Fit fabrics, in which high elasticity and strong holding power features of our products were beautifully highlighted. Holding power and growing together provided great opportunity to create value together.
Baykanlar
We have cooperated with Baykanlar for design, sewing and washing processes of our certain products in our Autumn/Winter 2020-2021 collection; embracing every step of what we do and what we stand for. 
Zara
Zara, a leading global fast-fashion brand from Spanish market, proudly presented a collection to its customers in, prepared solely by using Çalık Denim's Fly Jean fabrics; our product brand registered in many countries, credited for its lightness, flexibility, compactness and authenticity. While Çalık Denim brand name was emphasized on the Zara designs, the collection was displayed in stores branded by the Fly Jean name and logo. Supporting this powerful initiative and collaboration, we've passionately carried out the Fly Jean marketing campaign. Because we believe we have wings to fly and we know that we fly even higher when we unite.
Denim Of Virtue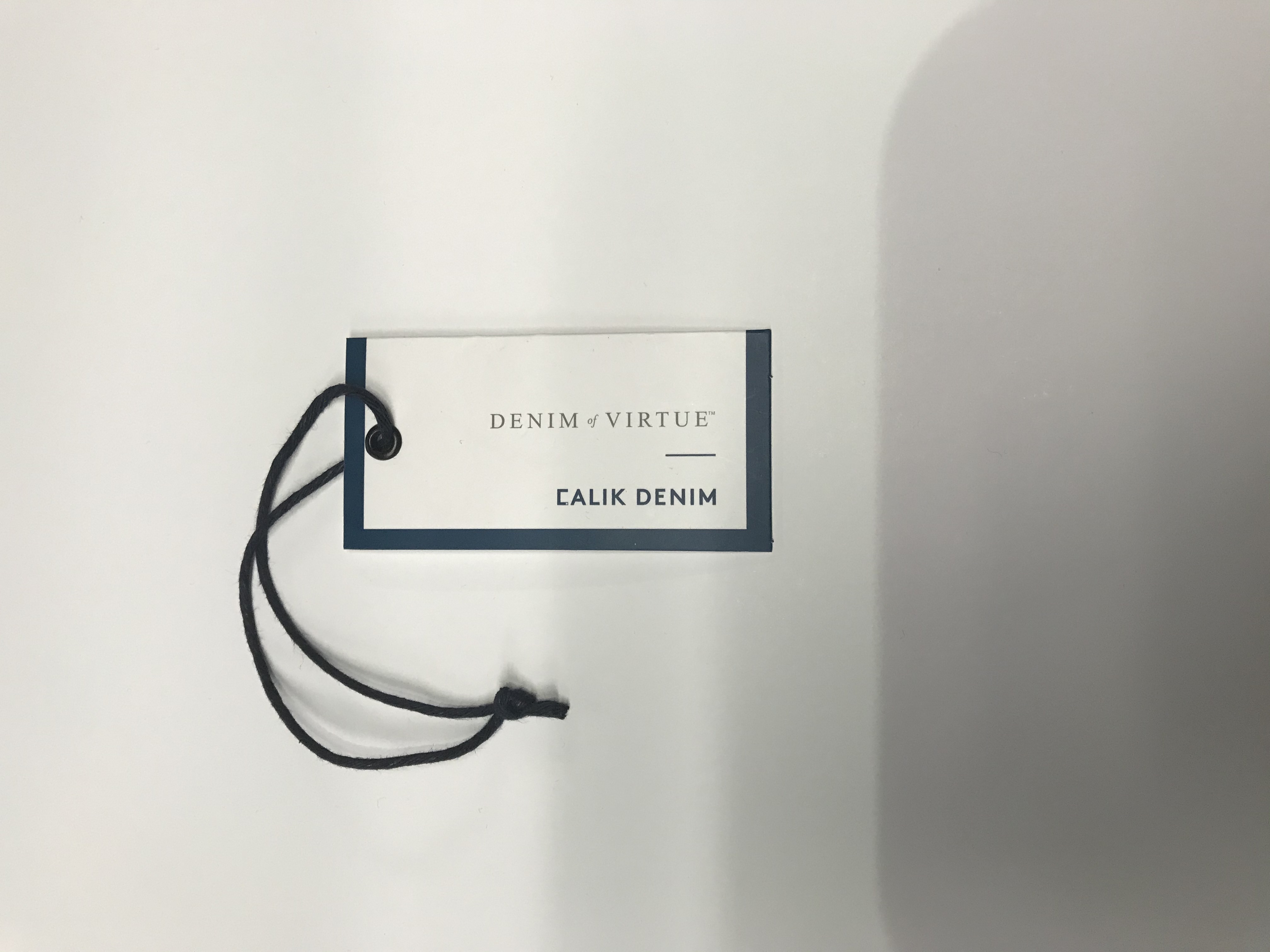 We've joined forces with the Korean brand, Denim of Virtue, in preparing special hangtags highlighting 'premium fabric from Turkey' highlight. Our branded hangtags were included in the company stores, highlighting the designs prepared with Çalık Denim fabrics. All efforts are worthwhile; all steps are leading to creating a better life, especially when we join forces for it. 
Ubi-ind Denim
We've carried out a cooperation project with Ubi-Ind Denim of San Francisco, established after 20 years of experience in the denim industry. Within the scope of the project, a special collection containing chef aprons and kitchen textiles was prepared by combining thermo-regulation that featured our Fly Jean fabrics and the innovative, modern design of Ubi-Ind Denim. Thus, a new denim-focused dimension has powerfully emerged in terms of functionality and design. This was a 'first' in the denim industry and the collection attracted great attention at Liberty Las Vegas fair. Innovation and design created a great outcome, proving us the power of having a vision and collaborating to realize it. 
B-clear - Baykanlar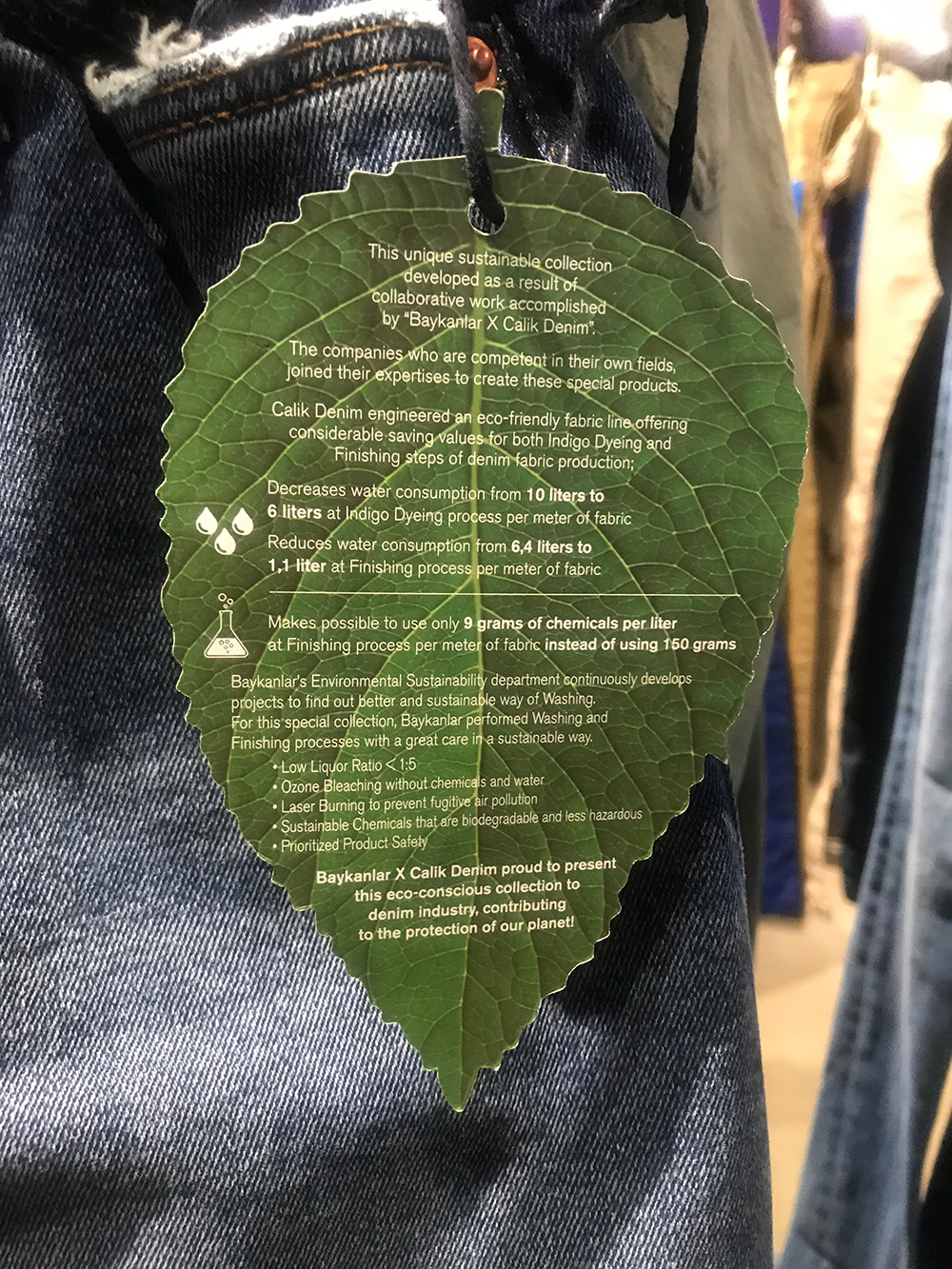 In 2018, we've carried out a cooperation project with Baykanlar, underlining sustainability. For the collection of fabrics produced with D-Clear technology, which provides significant saving values in Indigo dyeing and finishing processes, Baykanlar applied environmentally friendly washing technologies. Furthermore, all accessories were delicately selected with ecological features. Being part of the solution took just a truthful vision and following that vision all the way, with truthful acts.
Gonser Group
We've established a collaboration project with Gonser Group from Germany, in which the brand applied environment-conscious washing technologies for the capsule collection prepared with our organic fabrics. Thus a sustainable collection has been proudly developed, both in terms of fabric and washing processes. Mutual efforts to wash off the harm and nurture the good have been a precious milestone for both brands. 
Colin's, 2018
We have proudly cooperated with Colin's, the reputable denim garment brand based in Turkey, for the products they've prepared using our cozy fabrics. Colin's launched the fresh designs, emphasizing softness and warmness features in Russia. Experiences create impact, expanding our visions, carrying us beyond so-called boundaries…
Devred X Calik Denim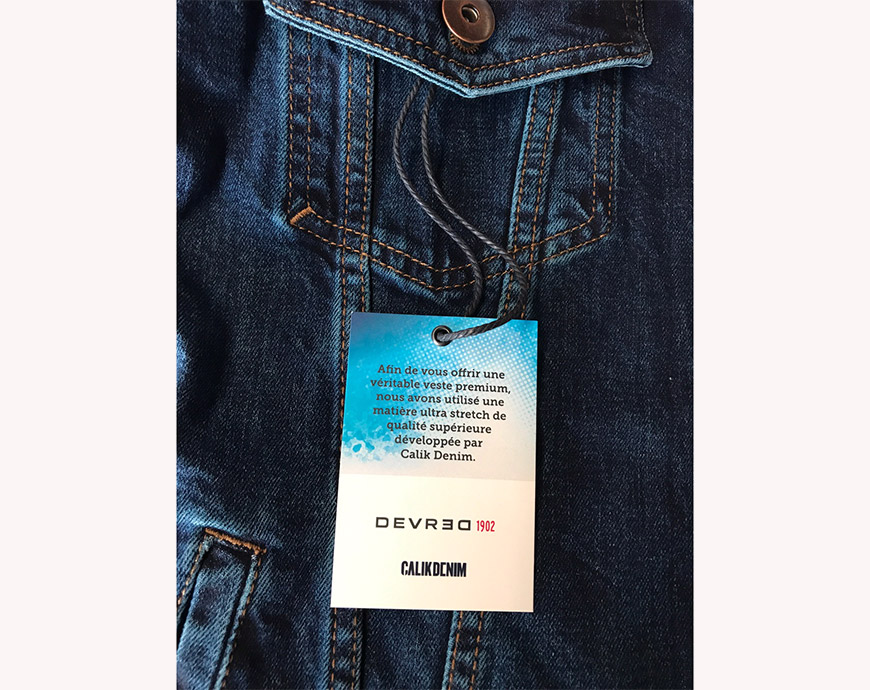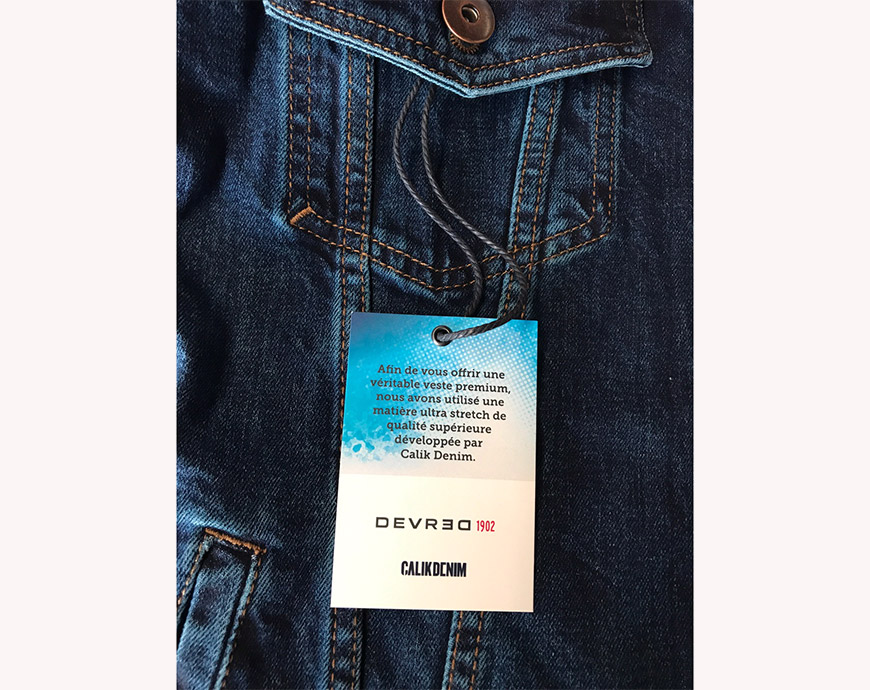 We have created an exciting co-branding partnership with the French brand Devred, producing a denim jacket made by Calik Denim's Fix-Fit concept for Devred's Grazia Blazing Blue collection. As the new product took to Devred stores, we passionately underlined the advantages of its fabric for the end-users, through the hangtags which was written directly in French: "Freedom of Movement" thanks to its high elasticity and permanent premium image due to special yarn structure and soft key.
D.clip X Calik Denim
We have cooperated with the Korean brand Blue Bee for creation of an exclusive men's clothing collection, D.CLIP. Through this association, Calik Denim fabrics were launched on the international market under D.CLIP brand name.
Qipai
.We have made a business alliance with Qipai the Far Eastern brand, which excitedly embraces innovation in every field. Oipai placed its collections freshly on the market using Elastech, the technology that overcomes the common problem of high elasticity denim fabric. A solid step in our passion for creating change for betterment…
Tortoise
Tortoise, one of the brands that has made true impact with its environmentally sensitive production model in the Western US, added a fresh one to its sustainable denim collections. Produced by Calik Denim's Oxygene technology, the collection has drawn much attention for consuming less energy, less water and less chemicals, nurturing our purpose of making positive impact for a better life. 
Angels
We have proudly cooperated with Angels, one of the leading brands of the German market, which has a mission to offer affordable trendy denim. Angels, having added color games and stitchery to their collection, have used the Oxygene concept by Calik Denim into their creations, resulting in a powerful effect and a conscious, environment-friendly production process all at once. A transformational experience to be embraced for life…
LCW
LCW, a rapidly growing brand in Turkey and beyond implemented Calik Denim's Warm Up technology, which stands out with the warm feeling and the beautiful soft texture it provides. The collection, referred to as the Jeans That Keep Warm stood for comfort and style all at once. What a heart-warming and empowering experience to contribute in creating betterment in all the ways we can…
Parker Smith
Parker Smith, a leading premium denim brand in the Western US, globally known for its feminine fit, developed a sustainable collection. While producing their new collection, Parker Smith has preferred Calik Denim's Oxygene technology that consumes less water, less energy and less chemicals. A powerful milestone, leading us to our purpose of making positive impact for a better life…
Plac
Another heart and mind opening proof that sustainability is now in every moment of our lives: The American brand PLAC's collection designed around the Oxygen concept offers the conscious choice of sustainable denim to its customers. Offering the mindful joy of contributing to create a better future… 
Lilanz
We have cooperated with Lilanz, one of China's leading brands, for the Warm Up concept we have developed. The brand offered the ideal denim to its customers, which provides softness as well as warmth during the winter season. In our opinion, warming up the customer experience; transforming it to be more enjoyable, exciting and meaningful is a solid act of change and betterment. 
Never Denim
Jeans, allowing women to look fit by wrapping the body, is no longer a dream… Calik Denim has passionately joined forces with Bik Bok/Never Denim, a leading brand in the Northern European market. Never Denim has launched their brand new collection 'Shape Up'  offering our Thin Up concept that provides the perfect look especially for women. Easily distinguished among its counterparts by its improved elasticity ratio and special fibers, Thin Up offers comfort with unique flexibility. It is also a perfect fit for Never Denim consumers. When collaboration and creativity fit together perfectly, it is actually possible to create what we dream of. 
Go back
Back to top